Hmm, something's still wrong.
This article is a stub. You can help Dexter's Laboratory Wiki by expanding it.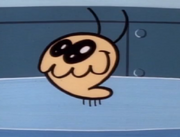 Timmy is a genetically enhanced metal-eating termite created by Dexter, for the purpose of eating all of the broken and useless metal components in his lab which Dee Dee would damage during her "rampages".