This article is about the segment. For the characters, see The Justice Friends.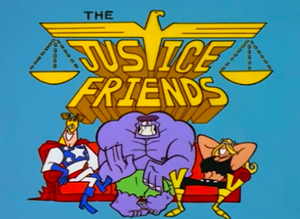 The Justice Friends is a back-up segment that airs between two Dexter's Laboratory shorts during the second half of the first season and two episodes of the second season.
Plot
The Justice Friends consists of Major Glory, The Infraggable Krunk, and Valhallen, who are all roommates living in an apartment complex called Muscular Arms. Most of the adventures of The Justice Friends deal with the three trying to balance out their superhero adventures while just trying to keep their composure having to adjust to their living arrangement. Most of these adventures play out like a sitcom along with a laugh track, used in a satirical manner.
Characters
Main Cast
Recurring Characters
Episodes
Season 1
Season 2
Trivia