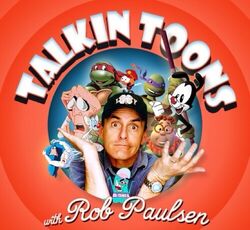 Robert Fredrick "Rob" Paulsen III (born March 11, 1956), who is sometimes credited as Rob Paulsen, is an American voice actor known for his wide variety of cartoon roles. He has done the voice of several characters in Dexter's Laboratory, Dial M for Monkey and The Justice Friends.
Paulsen has been the voice of over 250 different animated characters and performed in over 1,000 commercials. He continues to play minor parts in dozens of cartoons as well as supporting characters in animated movies. He is also won the Daytime Emmy Award twice for best male vocal performance.
Biography
He began his voice-over career in 1983 with the mini-series G.I. Joe: A Real American Hero, where he played "Snow Job" and "Tripwire". A few years later, his career launched into more roles such as "Cobra Slavemaster" and reprising "Snow Job" and "Tripwire" on G.I. Joe, "Corky" on The Snorks, "Marco Smurf" on the later seasons of The Smurfs, "Boober" on the animated version of Fraggle Rock, "Hadji" in The New Adventures of Jonny Quest and the title character – "Saber Rider" and the villain "Jesse Blue" on Saber Rider and the Star Sheriffs.
During the 1980s, Paulsen also explored the field of live action films. His first movie was Eyes of Fire in 1983. He played supporting roles in Body Double, Stewardess School, Warlock, and Mutant on the Bounty. He appeared in television shows during this time as well, such as MacGyver and St. Elsewhere. He mentioned in an interview, regarding his role in Body Double, that he would not want his child (who was very young at the time of the interview) to see the movie, so he could not really be proud of his work
Roles in Dexter's Lab
External links