"Hey, kid. Looks like you broke into state prison."
—Prison Warden, Dexter Detention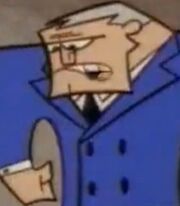 The Prison Warden is an strict officer at the State Prison. He is in charge of overseeing criminals who've committed crimes. His only appearance was in the end of "Dexter Detention" where he caught Dexter unintentionally breaking into the state prison and also for trying to escape from the Detention.
Trivia
The Prison Warden is very similar to the Warden from the 1979 film, Escape from Alcatraz, who is portrayed by the late Patrick McGoohan.