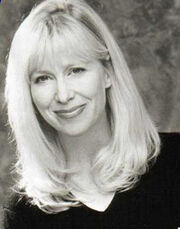 Katherine Soucie (born February 20, 1967), who is commonly credited as Kath Soucie, is an American voice actress known for her variety of cartoon roles. She is one of the main voice actors of Dexter's Laboratory and Dial M for Monkey while also doing supporting roles in The Justice Friends.
Biography
Soucie was born in Cleveland, Ohio and studied acting under her drama teacher Manu Tupou. After attending the American Academy of Dramatic Arts, she began a successful career on the New York stage. In the late 1970s, Soucie appeared in several television "movies of the week", including The Incredible Journey of Doctor Meg Laurel. However, she soon experienced disappointment with the physical restrictions of on-camera acting. In 1986, came her first voice over job for three different girls on Rambo: The Force of Freedom. Having started her voice acting career, the following year, Soucie played Janine Melnitz on The Real Ghost Busters, taking over the role from Laura Summer.
Roles in Dexter's Lab
Soucie was one of the original voice actors on the show, playing the role of Dexter's mother. As the series progressed, she got the roles of Dexter's computer, Agent Honeydew, Lee Lee, and Mandark's mother, Oceanbird.
Roles
Mee Mee (Initial Appearance)
Additional voices
External links