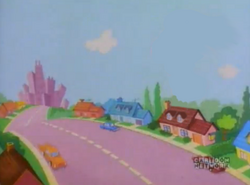 Genius Grove is the name of Dexter and Dee Dee's hometown and the main setting of Dexter's Laboratory. It's near a very big city, but there's no name for the city. It is believed to located in the state of California. It could possibly be a fictional suburb of the San Francisco Bay Area, due to how the Chinatown area looks.
Locations
Outskirts
In the setting of the game FusionFall, Dexter, his family and Mandark left Genius Grove and moved to Tech Square in downtown Townsville after the Fusion invasion, however, DeeDee stayed behind to give the player missions to protect Dexter's old lab from Fusion Monsters. Genius Grove remains mostly abandoned (especially in The Future). Dexter and Mandark's houses can be seen here, although they bear little resemblance to their animated incarnations.
Trivia
Community content is available under
CC-BY-SA
unless otherwise noted.