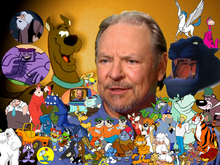 Franklin Wendell "Frank" Welker (born March 12, 1946) is a legendary American voice actor best known for his countless roles in cartoons, having played the role of some of the most memorable characters and animals in cartoon history. He has played numerous roles in Dexter's Laboratory, Dial M for Monkey and The Justice Friends.
Biography
Welker was born in Denver, Colorado but eventually moved to California and attended Santa Monica College in California, where he majored in Theatrical Arts. In 1966, he received honors for his performance as the Cowardly Lion in the college's theater production of The Wizard of Oz. During his transition between college and his voice acting career, his first voice-over role was in a commercial for Friskies dog food. The producer's girlfriend informed him of auditioning for Hanna-Barbera during the casting of Scooby-Doo, Where Are You! where he initially auditioned for the title character but instead won the role of Fred Jones, a role which would be the beginning of Frank Welker's long and fruitful career as a legendary voice actor.
Roles in Dexter's Lab
Trivia
He tends to do voice a lot of characters who make animal noises instead of talking such as Quackor, and White Tiger.