"After countless experiments, all testing proves negative. No enhanced abilities, no physical mutations, NO NOTHING!!! It seems you shall never become anything more than a mere monkey!"
—Dexter, Opening narration for Dial M for Monkey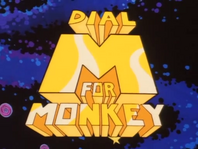 Dial M for Monkey is a segment of Dexter's Laboratory starring Dexter's pet lab monkey, who has superpowers and fights crime with his lovely partner Agent Honeydew and the commander General. Dexter wants his pet lab monkey to have some sort of strange thing about his but he never finds anything, but whenever Dexter isn't looking, Monkey turns into a super powered monkey named Monkey who fights crime and evil whenever all of the other forces have been beaten. Although Monkey is a part of his own segment, he has been seen in the Dexter's Lab segment multiple times.
The segment name is a pun on the 1954 thriller Dial M for Murder by Alfred Hitchcock.
Episodes
Characters
Major Characters
Recurring Characters
One-Time Characters
Monkey's true identity is revealed to Dexter in the episode Last But Not Beast although Dexter's memories are erased shortly afterward.
Trivia