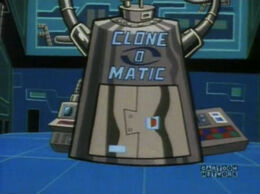 The Clone-O-Matic is one of Dexter's many inventions. It was used only in the episode "Double Trouble". In the episode, Dexter used his Clone-O-Matic cloning machine on himself to try to get Dee Dee, Lee Lee and Mee Mee out of his lab. The machine was also used by Dee Dee and her friends to make clones of themselves. At the end of the episode, the Clone-O-Matic malfunctions, creating a clone that has body parts of Dexter, Dee Dee, Lee Lee and Mee Mee combined.
Gallery
Community content is available under
CC-BY-SA
unless otherwise noted.